Holiday Special


Family Membership


Gift Certificate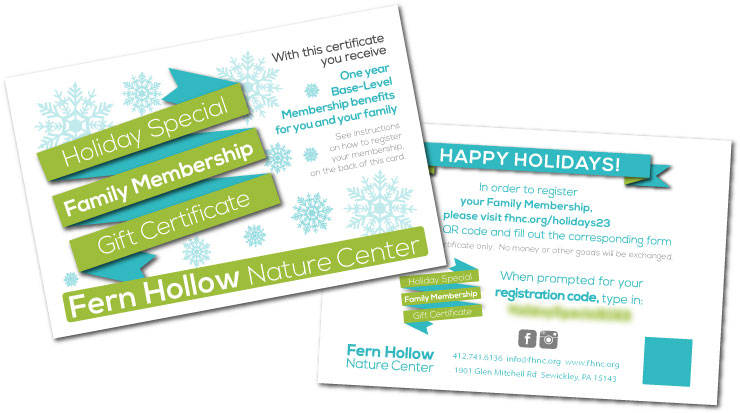 Give the Gift of Nature !
A Fern Hollow Family Membership is the gift that keeps on giving…
From November 1st through December 15th, Family Memberships, with all the regular benefits, for a full year, will be available at Only $75 (regular price is $100) to purchase and gift, or keep for your own family.

We have made gift shopping quick and simple! 
1. Just fill out the Holiday Family Membership form found below, and complete the payment process.
2. You will receive a confirmation email with a special link and registration code (please don't share the link or code) to register one (1) family as a Fern Hollow Member, for one full year.
3. We will also send you, through postal mail, a super cute Holiday Special Family Membership Gift Certificate (as seen on top), with the instructions on how to register, so you may gift the membership, or keep it for your own family.
That's it!
Happy Holidays!
For further assistance please
* Please note:  Only one (1) registration per Holiday Special Family Membership is allowed.
If you select "Yes, send me my Holiday Special Family Membership Gift Card"
on the payment form, you will receive your gift certificate by postal mail, to the provided address.
The printed gift certificate is one in the same with the confirmation email you will receive after payment, and should be used to register as an alternative only.  NOT in addition to the confirmation email.
All sales are final.  No refunds will be issued.