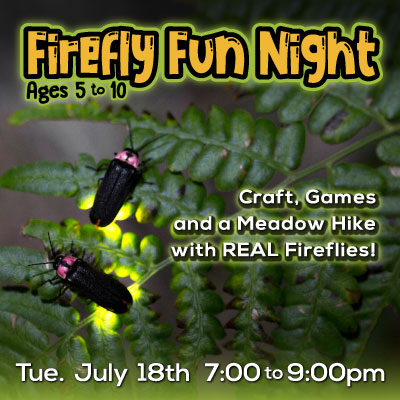 Firefly Fun Night

Join us for a fun night with lightning bugs
at Fern Hollow Nature Center!
The program will also include crafts, games & conclude with a night hike through the meadow for a unique chance to observe fireflies in action!
All participants should bring a nut-free snack & reusable water bottle.
For Children ages 5 to 10
Tuesday, July 18th, 2023
7:00 to 9:00pm
At Fern Hollow Nature Center (1901 Glen Mitchell Rd, Sewickley)
Member fee $10 per child
Public fee $12 per child
Spaces are limited.  Registration is required.
SOLD OUT!
**No tickets will be issued. A reservation under your name will be at the event's entrance.
***Requests for refunds will be accepted up until five (5) days before this program begins. Refunds will be the full amount, minus processing fees and issued via PayPal.