Our Story
History and Mission
Our mission is to serve the community by providing unique learning opportunities aimed at helping children and adults understand and appreciate our environment.
The staff and volunteers who operate the non-profit organization, funded mostly by membership and donation dollars, serve over 10,000 visitors each year by creating and hosting a variety of family programs, adult programs, nature walks, community events, as well as offering educational programming to local schools specifically aligned with their curricula.
Originally formed when G. Whitney Snyder donated his property to Sewickley Heights Borough, Fern Hollow has committed to preserve the landscape and remains an invaluable educational and environmental resource in the community.
As we approach our 25th year as the local leader in nature education and outdoor experiences, your donations and membership dues safeguard our commitment to remain steadfast in our mission to help our community EXPLORE, LEARN and DISCOVER!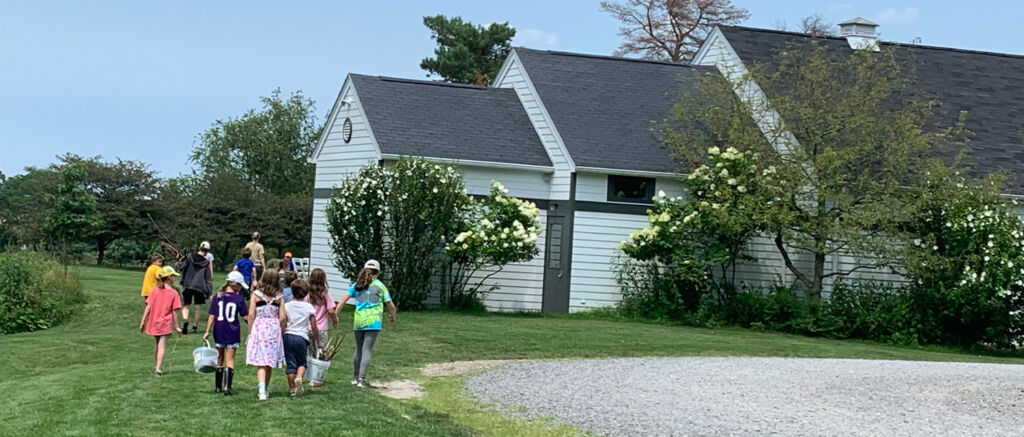 Our Grounds
Located on roughly 33 acres of land in the borough of Sewickley Heights, Pennsylvania, Fern Hollow Nature Center functions as the gateway to the region's vast park and creek system.
Native Tree Walk
In 2008 Fern Hollow Nature Center received a generous grant from the Mackenzie Foundation and Child Health Association which funded a three-year collaborative environmental education project, entitled "the ABC's of Trees", with Quaker Valley Middle School to plant a variety of native trees and wildflowers on Fern Hollow's property.
Fern Hollow now offers 32 different species of native trees that will help to attract local wildlife throughout the year and serve as an educational tool to highlight the importance of native biodiversity.
Native Tree Walk Map
Interactive Nature Walk
Welcome to Fern Hollow's Interactive Nature Walk. Fern Hollow began as a park in 1965 when G. Whitney Snyder purchased land from the Lewis Park estate. Officially founded as Fern Hollow in 1997, the Nature Center has been educating the public through a variety of camps and school programs. Using this Nature Walk, you have your very own opportunity to learn more about the world around you.
interactive nature walk map
Natural Outdoor Classroom
Take a look through the deer fencing at our children's garden! There are two different sections to our garden. The section on the right is a sensory garden used for FHNC's school and summer camp education programs. Here we have constructed 6 raised beds where we grow different herbs, flowers and vegetables including, peppers, squash and tomatoes. The other section is a berry patch (contains raspberries and blueberries) that is open to the public.
Behind the garden, you will also see two large Serviceberry shrubs. Serviceberries are also edible and they are a great native shrub to plant in your yard to attract wildlife! They usually bloom in June and look similar to a red blueberry!
We also have a 10 gallon rain barrel! This allows us to water our plants and veggies when needed.
The pergola was built by Julien Robinet and his troop as part of his Eagle Scout project back in 2013. The roof of this pergola is approximately 25 ft long by 5 ft wide which is 125 sq ft. For every inch of rain that falls here at FHNC, we are able to collect approximately 75 gallons of water in our barrel. (1 inch of rain falling on 1 square foot of roof catches approximately 0.6 gallons of water).
outdoor classroom map