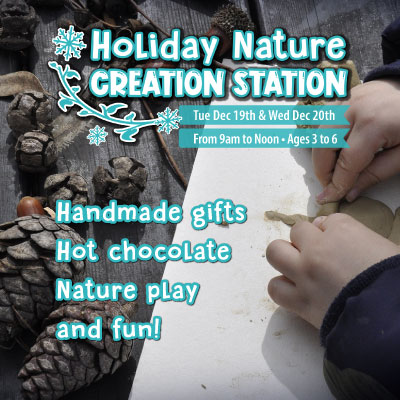 Holiday Nature Creation Station

Have a few last-minute items to check off
of your holiday "to-do" list?
Bring the kids for a fun morning at Fern Hollow!
Each participant will have the opportunity to create 3 of their own nature-themed handmade gifts for loved ones, as well as enjoy hot chocolate & some outdoor free exploration time.
Holiday Nature CREATION STATION is a drop-off program for children ages 3 to 6.
Spaces are limited. Registration is required.
Tuesday, December 19th and Wednesday, December 20th
9:00 AM to Noon
At Fern Hollow Nature Center (1901 Glen Mitchell Rd, Sewickley)
For children ages 3 to 6
Member fee:  $30 per child, per day
Public fee: $40 per child per day
Spaces are limited.  Registration is required.
* You are more than welcome to sign up for both December Wednesday 19th and Thursday 20th, but please note that the same craft will be made on both days.
Tue December 19
Wed Dec 20 IS SOLD OUT!
**No tickets will be issued. A reservation under your name will be at the event's entrance.
***Requests for refunds will be accepted up until five (5) days before this program begins. Refunds will be the full amount, minus processing fees and issued via PayPal.