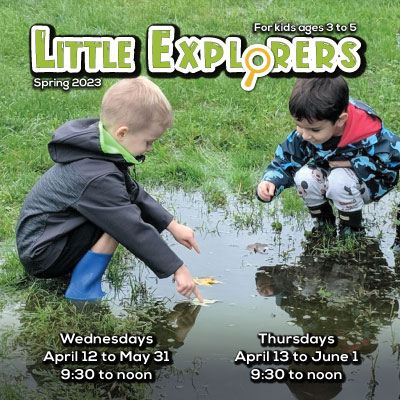 Little Explorers Spring 2023
for children 3-5 years old
Wednesdays / Thursdays from 9:30 to noon at Fern Hollow
Explorers will take hikes in the meadows, play in our outdoor classroom, make nature-themed crafts, and enjoy time with friends exploring, learning, and discovering. Children should come dressed for the weather and bring a peanut-free snack.
Although we will spend some time indoors, the program is geared to have children outside enjoying nature as much as possible.
Different variations of this program are offered throughout the year to provide unique experiences based on the changing seasons.
Drop off program geared for children 3-5 years old
8 Week sessions
Up to 15 spaces
Members $240 per person, per session
Public $280 per person, per session (Join FHNC Today)
Wednesdays
April 12 to May 31, 2023
from 9:30am-noon
at Fern Hollow
Thursdays
April 13 to June 1, 2023
from 9:30am-noon
at Fern Hollow