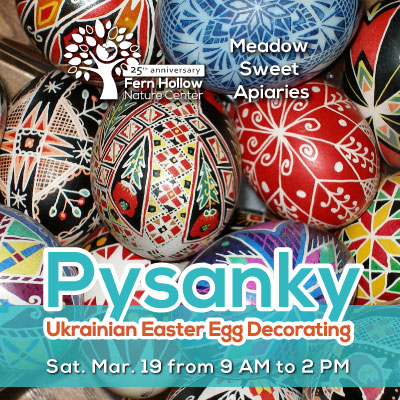 Pysanky

(

Ukranian Easter Eggs)
Learn the basics of how to create these beautiful eggs in time for Easter!
This is a hands on class where attendees will decorate their own pysanky.  Registration includes a basic starting kit.
Pysanky are decorated using traditional folk designs with a technique called the wax-resist method.  Designs are written with beeswax on egg shells, and then dyed.
Saturday March 19
9 AM to 2 PM
At Fern Hollow Nature Center.
Class taught by Steve Repasky
of Meadow Sweet Apiaries and Honey be kind
Members: $35     Public: $40.
one (1) starter kit included in each registration.
** Bring your own lunch and water bottle.
Register here!