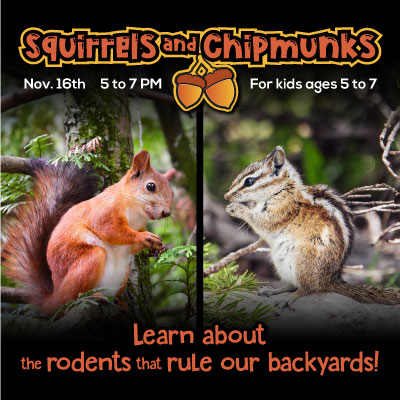 Squirrels

and

Chipmunks
Join us for an evening of fun, games, and learning about the rodents that rule our backyards. We will learn about the relationships between chipmunks and squirrels, as well as the role they play in the Pennsylvania wilderness.
Thursday, November 16th

5:00 to 7:00 PM
At Fern Hollow Nature Center (1901 Glen Mitchell Rd, Sewickley)
For children ages 5 to 7
Member fee:  $10.00 per child
Public fee: $15.00 per child
Spaces are limited.  Registration is required.
register here!
**No tickets will be issued. A reservation under your name will be at the event's entrance.
***Requests for refunds will be accepted up until five (5) days before this program begins. Refunds will be the full amount, minus processing fees and issued via PayPal.